Loaded Breakfast Carrot Cake Overnight Oats Recipe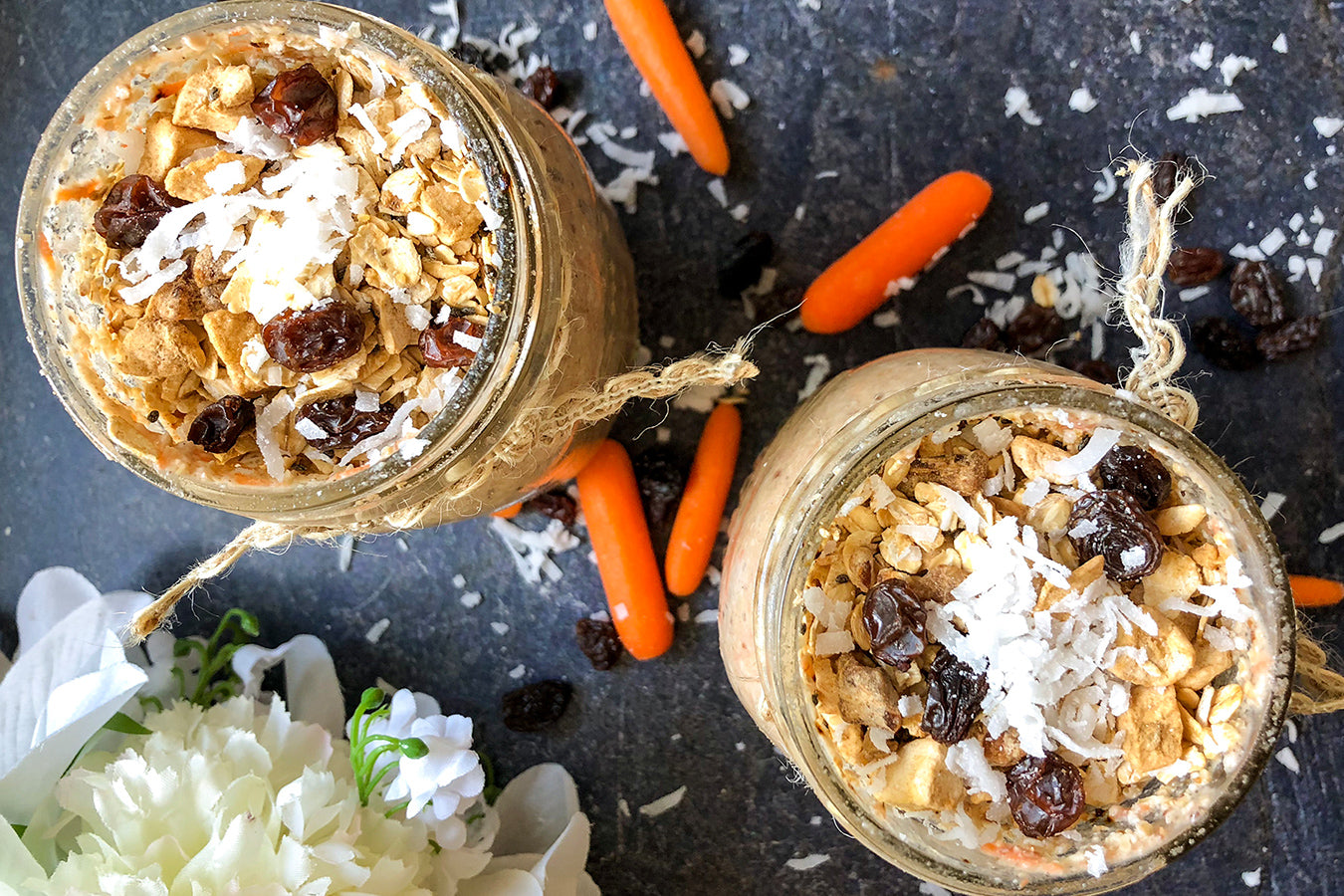 These carrot cake overnight oats may actually have you excited to get up in the morning! Prep these jars the night before and enjoy a filling breakfast loaded with protein, fiber, and even some veggies for bonus points.
INGREDIENTS:
Makes 2 servings
1 cup rolled oats
2 scoops (70g) LIV Body Lean Protein & Greens (Vanilla Chai)
1/2 cup carrot, finely grated
2 tbsp. stevia-erythritol blend (or sweetener of choice)
1 tsp. ground cinnamon
1/4 tsp. ground nutmeg
1/4 tsp. ground ginger
1/8 tsp. ground cloves (or allspice)
1/4 tsp. salt (optional)
1 1/2 cup unsweetened coconut milk (or milk of choice)
1 tsp. pure vanilla extract
2 tbsp. seedless raisins (optional)
2 tbsp. chopped walnuts (optional)
2 tbsp. unsweetened shredded coconut (optional)
DIRECTIONS:
Divide dry ingredients (through salt) between two mason jars or sealable containers.
Add milk and vanilla, then seal jars and shake to combine.
Leave in the fridge overnight and top with raisins, walnuts, and coconut in the morning (optional).
Macronutrients:
| FAT: | CARBS: | PROTEIN: | CALORIES: |
| --- | --- | --- | --- |
| 9.1g | 36g | 26g | 329 |
----------------------------------------------------------------------------------
About LIV Body
We are committed to bringing the highest quality, most effective, natural products to the market. All of our supplements products are all-natural, free of artificial sweeteners, artificial colors, harmful additives, and taste absolutely amazing!
LIV Body takes every measure possible to ensure that we are optimizing the health and wellness of our customers. We are fanatical about ensuring that we are sourcing the purest and natural ingredients available and are even more obsessed with making sure that we keep all of the potentially harmful ingredients out of our products. We are strong believers that fueling your body with natural ingredients from the earth is exactly what will optimize your appearance, health, and physical and mental performance.