Almond Poppyseed Protein Muffins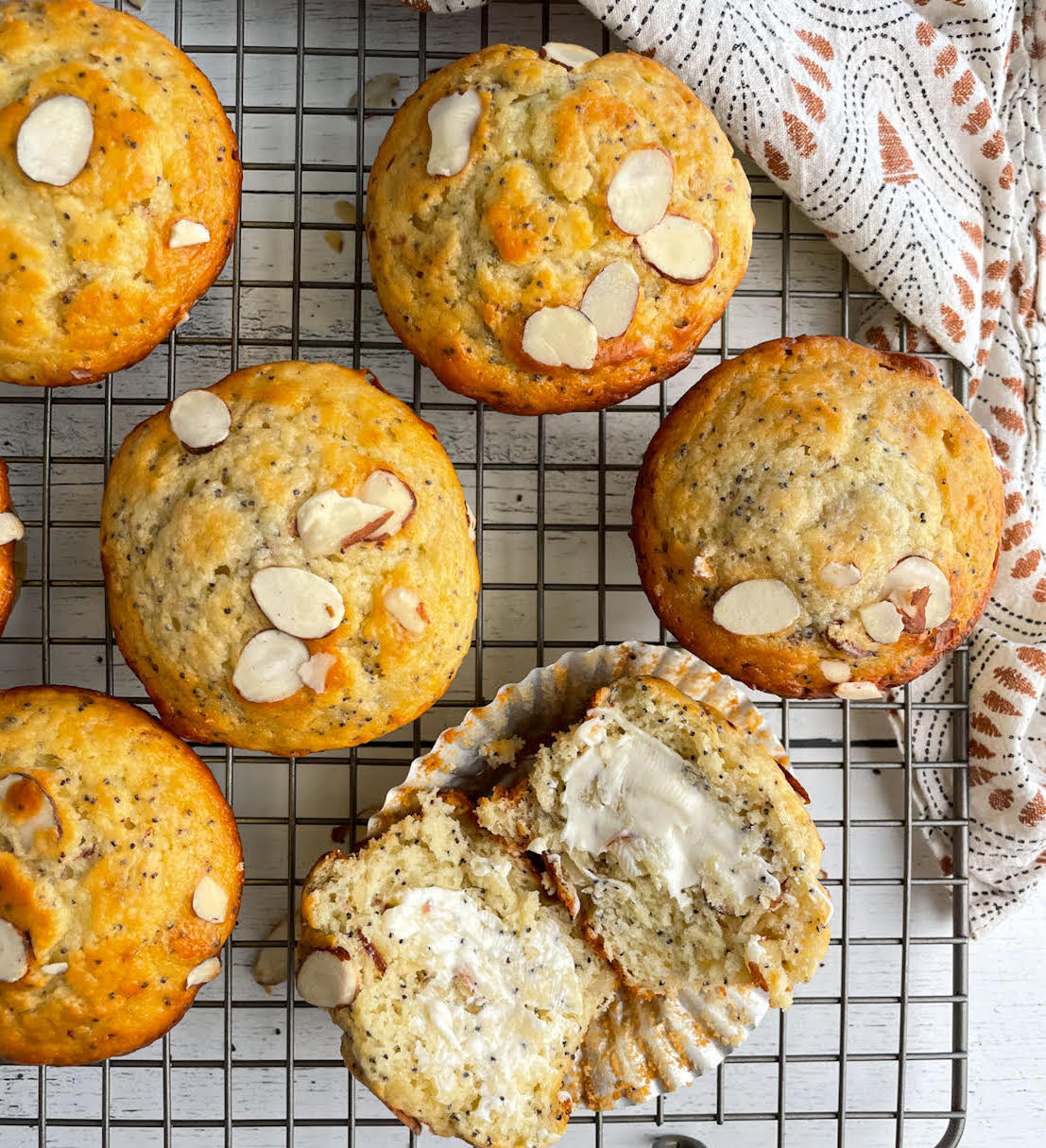 Have you ever had almond poppyseed muffins? They're so uniquely delicious! These Almond Poppyseed Protein Muffins get their protein from LIV Body's flavorless marine collagen - the perfect protein for baking. It adds tenderness and health benefits without competing with the flavors of the muffin ingredients. Multiply this recipe by 1.5 for a dozen muffins, or divide in half to test it out first!
Ingredients:
1 1/2 cup (180g) gluten free baking flour

80g LIV Body flavorless marine collagen

3/4 cup sugar-free sweetener (I used one that measures like sugar)

1 1/2 tsp. baking powder

1/4 tsp. salt

2 large whole eggs (or 1/4 cup ground flax + 1/2 cup water)

1/2 cup plain Greek yogurt (can use dairy-free)

3 tbsp. unsweetened applesauce

2 tbsp. avocado oil (or melted butter)

1 1/2 tsp. pure vanilla extract

1/2 tsp. pure almond extract

1/4 cup sliced almonds

1 tbsp. poppyseeds
Directions:
- Preheat your oven to 375 degrees F.
- Whisk together dry ingredients (through salt in a large mixing bowl).
- Add wet ingredients (through extracts) and mix just until no dry clumps remains.
- Stir in almonds and poppyseeds.
- Line 8 wells of a muffin pan with paper, foil, or silicone liners. Spray insides with cooking spray for easier removal.
- Divide muffin batter between wells, filling almost all the way to the top.
- Bake for 20-25 minutes in preheated oven or until edges are golden brown.
- Let cool slightly then enjoy! Leftovers will keep in an airtight container in the fridge at least a week. Reheat in the microwave for 15 seconds.
Calories (per muffin): 205kcal, Fat: 7.1g, Sat fat: 1.0g, Carbs: 21g, Fiber: 2g, Sugar: 1g, Protein: 15g, Sodium: 187mg

Recipe by Sarah Wilkins