Collagen French Toast Bake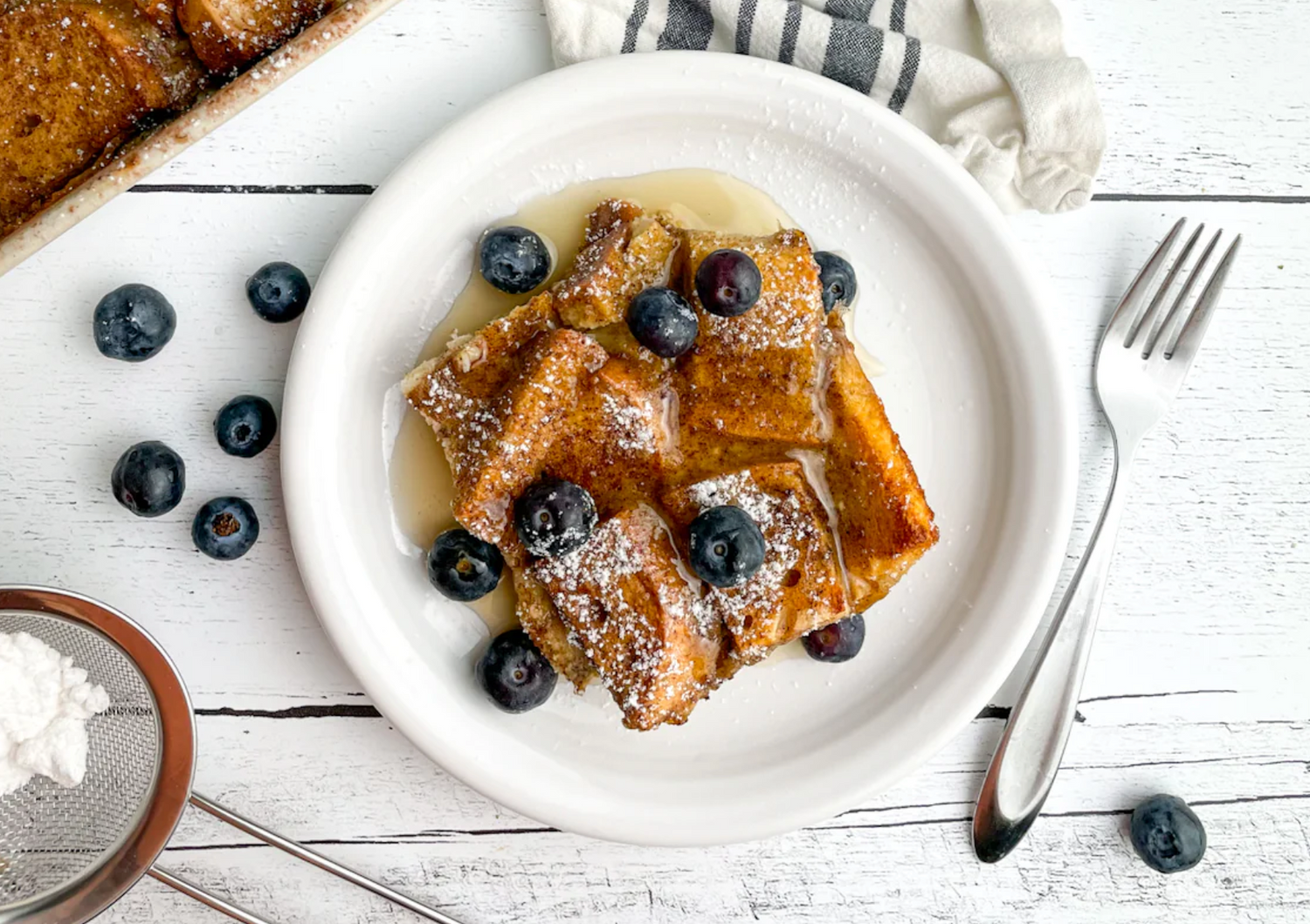 You know when you want a "fancy" breakfast, but don't want to slave away in the kitchen? This Collagen French Toast Bake it the ticket! All that cinnamon maple goodness in under 30 minutes... no flipping or standing over a pan. And it's gluten free and dairy free with added protein from the collagen. You can even top it with blueberries, powdered sweetener, and sugar free pancake syrup for an extra rush of flavor!

Did you know? Collagen is a key component of not only our skin, but also our bones and joints (connective tissue). Type I collagen is the most prevalent in our bodies, and marine collagen is particularly high in type I.
Ingredients

2 tbsp. vegan butter (or unsalted butter)
1 loaf (14 oz.) gluten free bread 
6 large whole eggs 
1 cup unsweetened almond milk 
6 scoops (48g) LIV Body Marine Collagen
1/4 cup sugar free brown sugar alternative
2 tsp. pure vanilla extract
1 tsp. ground cinnamon


Directions
Preheat your oven to 350 degrees F.

Quarter slices of bread and let dry out for a bit. You can leave them on the counter for a couple hours, or skip it, but this step makes for a less soggy French toast bake.

Grease a 9"x13" casserole dish with vegan or dairy butter, then sprinkle bread cubes over top.

Combine eggs, warm milk, brown sugar, vanilla, and cinnamon in a medium mixing bowl.

Once combined, whisk in collagen protein powder until no clumps remain (optional).

Pour egg mixture over bread cubes and press down lightly to help them soak up the mixture. You can also toss them in the egg mixture with your hands a little.

Bake casserole in your preheated oven for 40-45 minutes or until egg mixture is set and bread is golden brown on the edges.

Top with powdered sweetener, blueberries, and sugar free pancake syrup (or toppings of choice)! Enjoy.

Leftovers will keep in the fridge in an airtight container for up to a week, or in the freezer for up to one month.

Macros

Calories (per serving, minus toppings): 288kcal, Fat: 10.3g, Sat fat: 2.4g, Carbs: 33g, Fiber: 5g, Sugar: 4g, Protein: 16g, Sodium: 337mg
Makes 6 servings