Low Carb Bacon & Spinach Egg Muffins Recipe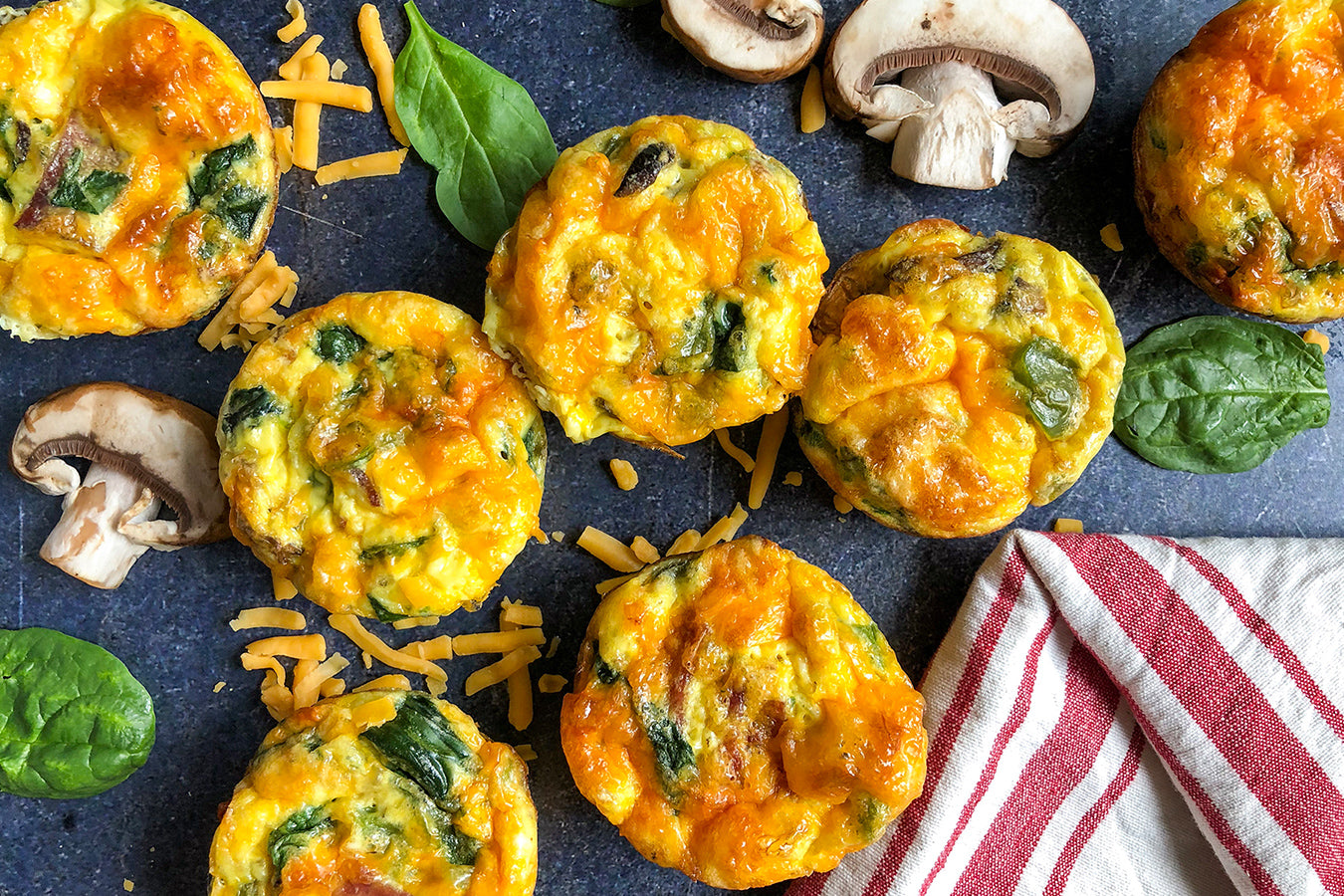 These low carb egg muffins are full of flavor and offer a satisfying dose of protein and veggies to get you through your busy mornings. Feel free to trade the turkey bacon for sausage or ham, switch up the veggies, or swap the cheddar cheese for mozzarella or feta.
INGREDIENTS:
Makes 12 muffins
Serving size: 1 muffin
6 slices turkey bacon
1/2 cup onion, chopped
1/2 cup bell pepper, chopped
1/2 cup mushrooms, sliced
3 cups fresh spinach
6 whole eggs
1 cup (8 large) egg whites
1/4 tsp. black pepper
1 cup sharp cheddar, shredded (optional)
DIRECTIONS:
Preheat oven to 350 degrees F.
Pan-fry turkey bacon until crispy and set aside.
Sauté onion and bell pepper in the same pan, then add spinach, cooking until it begins to wilt.
Beat together eggs and egg whites.
Crumble bacon into egg mixture, then add sautéed veggies.
Stir in pepper and cheese if desired.
Lightly coat twelve wells of a muffin tin with cooking spray, then divide mixture between cups.
Bake for 20-30 minutes until cook through and golden brown on edges.
Store in the fridge in an airtight container up to one week until ready to eat.
Macronutrients:
| FAT: | CARBS: | PROTEIN: | CALORIES: |
| --- | --- | --- | --- |
| 3.7g | 2g | 8g | 75 |
----------------------------------------------------------------------------------
About LIV Body
We are committed to bringing the highest quality, most effective, natural products to the market. All of our supplements products are all natural, free of artificial sweeteners, artificial colors, harmful additives, and taste absolutely amazing!
LIV Body takes every measure possible to ensure that we are optimizing the health and wellness of our customers. We are fanatical about ensuring that we are sourcing the most pure and natural ingredients available and are even more obsessed with making sure that we keep all of the potential harmful ingredients out of our products. We are strong believers that fueling your body with natural ingredients from the earth is exactly what will optimize your appearance, health, and physical and mental performance.