Delicious Vegan Beet & Black Bean Burgers Recipe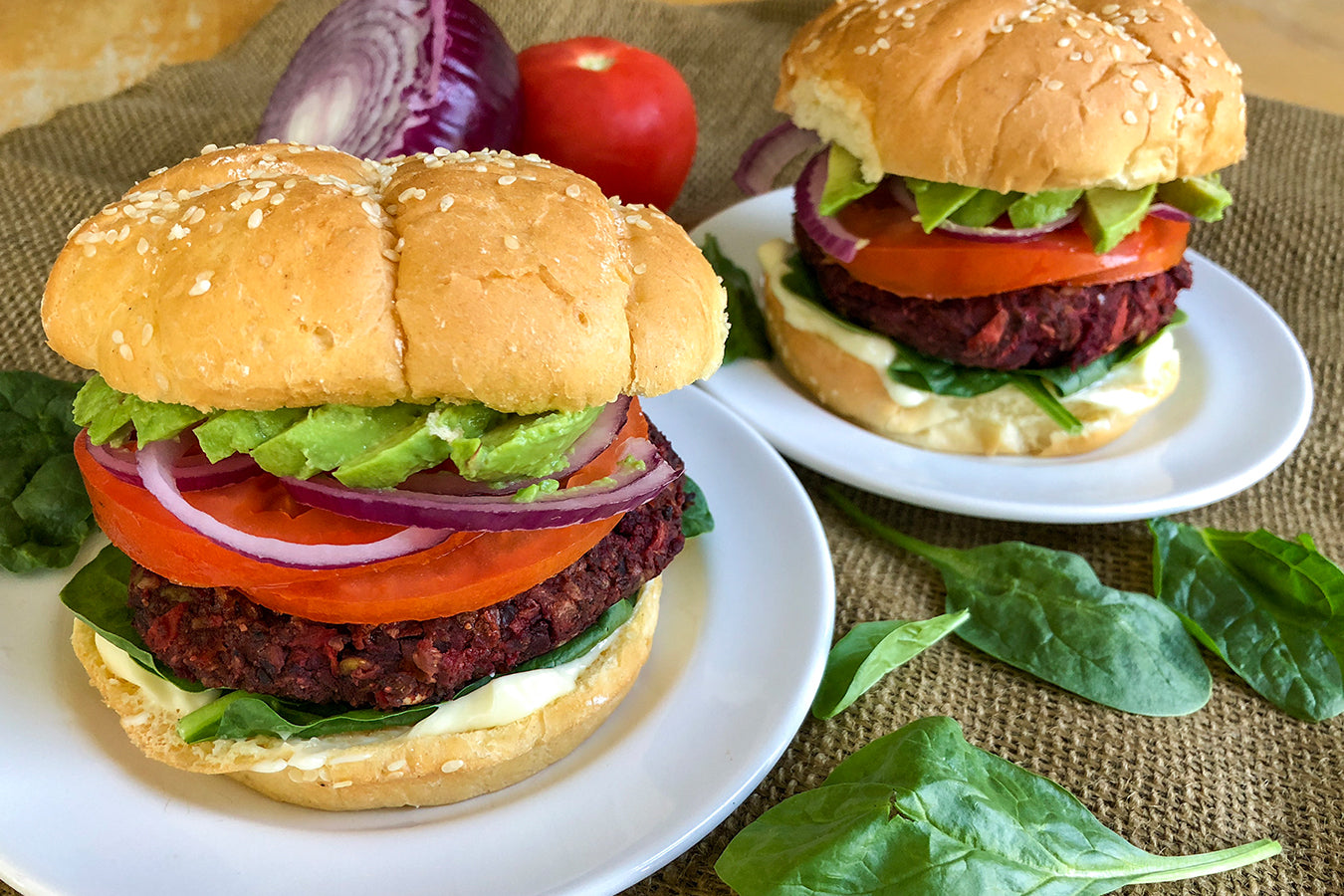 Looking for a hearty, delicious plant-based burger that doesn't sacrifice on flavor? Look no further! These bean and beet burgers have plenty of protein and fiber, pumpkin seeds for a little crunch (feel free to use whatever nuts or seeds you like!), and warm spices for smoky, savory goodness.
INGREDIENTS:
Makes 4 burgers
Serving size: 1 burger
1 cup beet, diced into 1/4" chunks
1 cup carrot, shredded
1 1/2 cup refried black beans
1/2 cup pumpkin seed kernels, finely chopped
1 tsp. ground cumin
1 tsp. onion powder
1/2 tsp. smoked paprika
1/2 tsp. black pepper
Toppings:
4 burger buns
4 slices tomato
4 slices red onion
2 cups spinach
4 oz. (one small) avocado, sliced (or use 4 tbsp. vegan mayo)
DIRECTIONS:
Lightly coat a skillet with cooking spray and add beets and carrots, cooking until tender.
Add refried beans, pumpkin seeds, and spices.
Form into patties and grill (or pan-fry) over medium heat for 5 minutes per side.
Layer each bun with avocado or mayo, spinach, burger, tomato, and onion. Enjoy!
| FAT: | CARBS: | PROTEIN: | CALORIES: |
| --- | --- | --- | --- |
| 8.7g | 23g | 12g | 211 |
----------------------------------------------------------------------------------
About LIV Body
We are committed to bringing the highest quality, most effective, natural products to the market. All of our supplements products are all natural, free of artificial sweeteners, artificial colors, harmful additives, and taste absolutely amazing!
LIV Body takes every measure possible to ensure that we are optimizing the health and wellness of our customers. We are fanatical about ensuring that we are sourcing the most pure and natural ingredients available and are even more obsessed with making sure that we keep all of the potential harmful ingredients out of our products. We are strong believers that fueling your body with natural ingredients from the earth is exactly what will optimize your appearance, health, and physical and mental performance.