Low Carb Teriyaki Salmon & Quinoa Bowl Recipe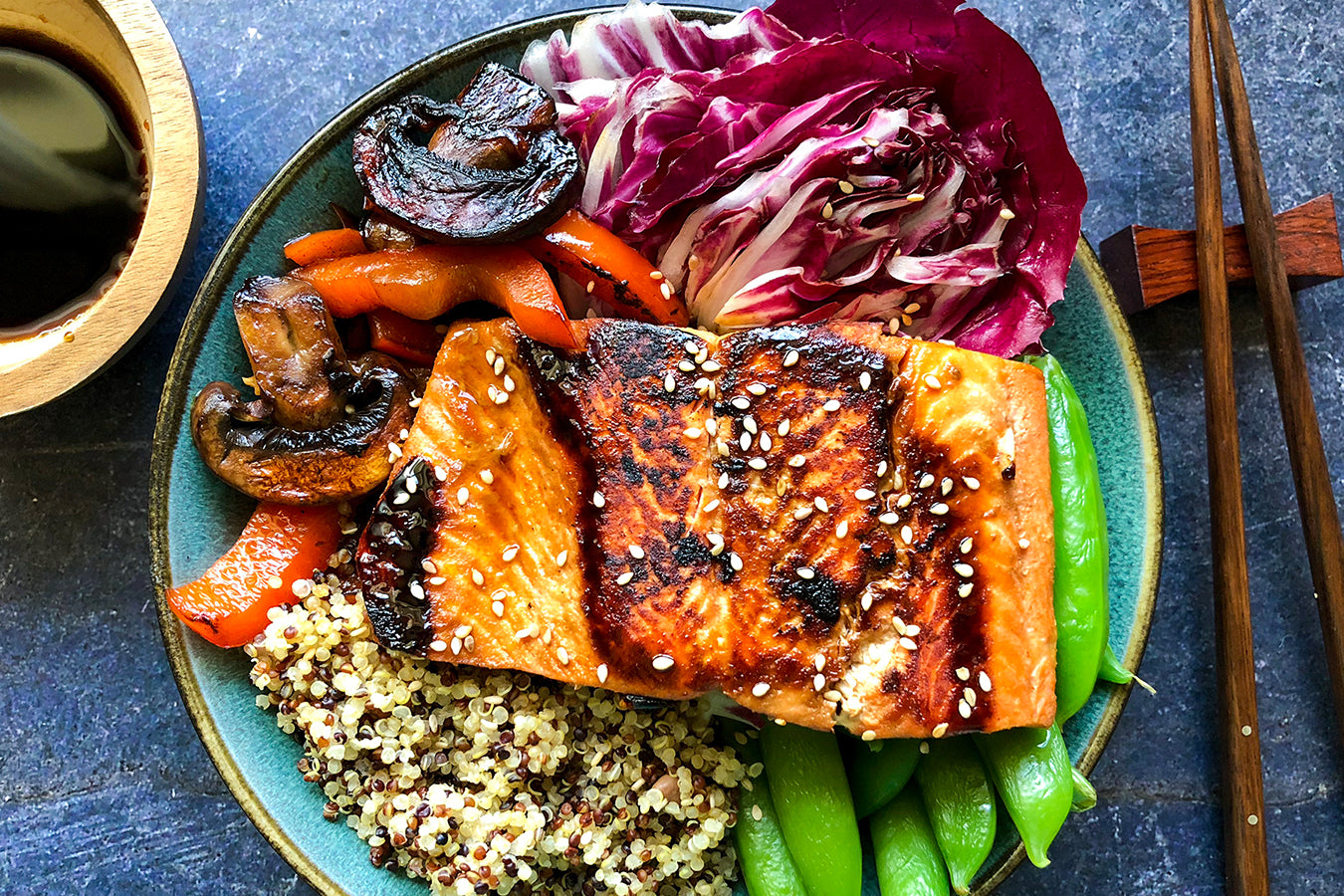 Sometimes the best way to get your nutrition is a big bowl with all the goods! This Asian-inspired bowl has mouthwatering seared salmon, fluffy quinoa, stir-fry veggies, and crisp radicchio to delight your taste buds and keep you full for hours.
INGREDIENTS:
Makes 2 bowls
Serving size: 1 bowl
8 oz. wild-caught salmon fillet, thawed if frozen
2 tbsp. less sodium soy sauce (or tamari, coconut aminos)
4 tsp. honey
4 tsp. rice wine vinegar
1/2 tsp. ground ginger
2 garlic cloves, minced (or 1/4 tsp. garlic powder)
2/3 cup cooked quinoa
1 cup sugar snap peas, steamed
1 cup radicchio, chopped (or lettuce of choice)
1/2 cup mushrooms, sliced
1/2 cup bell pepper, sliced
DIRECTIONS:
Combine soy sauce, honey, rice wine vinegar, ginger, and garlic in a medium bowl.
Lightly coat a skillet with cooking spray and add salmon skin-side down.
Spoon sauce over top of salmon, cooking 4 minutes over medium-high heat before flipping.
Scrape off crispy skin and spoon remaining sauce over salmon, cooking another 3 minutes.
In the same skillet, stir-fry mushrooms and peppers with soy sauce (or tamari, coconut aminos).
Meanwhile, cook quinoa (in broth for best flavor) and steam snap peas (I used leftovers).
Divide quinoa, snap peas, radicchio, mushrooms, peppers between two bowls.
Top with seared salmon fillets and enjoy!
Macronutrients:
| FAT: | CARBS: | PROTEIN: | CALORIES: |
| --- | --- | --- | --- |
| 7.8g | 33g | 30g | 330 |
----------------------------------------------------------------------------------
About LIV Body
We are committed to bringing the highest quality, most effective, natural products to the market. All of our supplements products are all natural, free of artificial sweeteners, artificial colors, harmful additives, and taste absolutely amazing!
LIV Body takes every measure possible to ensure that we are optimizing the health and wellness of our customers. We are fanatical about ensuring that we are sourcing the most pure and natural ingredients available and are even more obsessed with making sure that we keep all of the potential harmful ingredients out of our products. We are strong believers that fueling your body with natural ingredients from the earth is exactly what will optimize your appearance, health, and physical and mental performance.