Mini Key Lime Protein Collagen Cheesecakes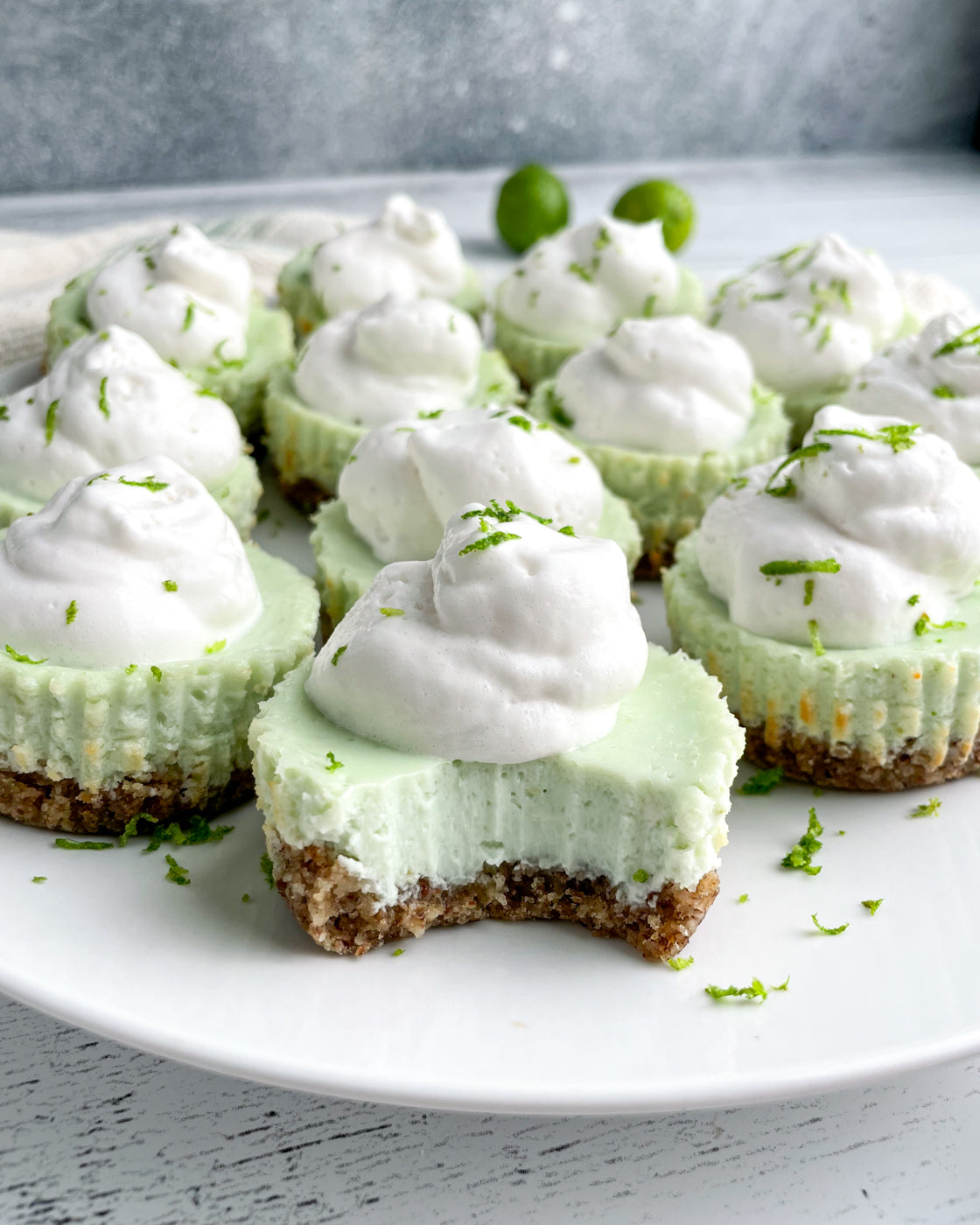 We can't get enough of these refreshingly sweet Mini Key Lime Protein Cheesecakes! Think rich key lime cheesecake with a nutty almond flax crust, topped with coconut whipped topping. These luscious treats pack 10 grams of protein each, thanks to our flavorless marine collagen. They're also low carb and low in sugar! Did we mention these are gluten free and dairy free? Ohhh yes.
You can use any sweetener that measures like sugar in these cheesecakes. We have found that some vegan cream cheeses taste better than others, and @thenutritionistmom, Sarah who created this recipe, recommends the Kite Hill brand. You can use any thick, dairy free yogurt you prefer! Of course, if you don't need dairy free, feel free to use regular low fat cream cheese and plain Greek yogurt. 
Mini Key Lime Protein Cheesecakes
(Makes 12 cheesecakes)
Crusts:
1 cup almond flour
1/4 cup ground flaxseed
3 tbsp. sugar free brown sugar alternative (like Swerve)
2 tbsp. water
Cheesecakes:
8 oz. dairy free cream cheese, softened (like Kite Hill brand)
1/2 cup dairy free Greek yogurt (like Kite Hill brand)
2/3 cup sugar free powdered sweetener (like Swerve)
6 scoops (48g) LIV Body flavorless Marine Collagen powder. Get yours here Buy 1 get 1 Free with code MINICHEESECAKES
6 tbsp. (3 large) egg whites
3 tbsp. key lime juice
1 tsp. key lime zest
1/2 tsp. pure vanilla extract 
1-2 drops natural green food coloring
Topping:
3/4 cup light coconut whipped topping (like CocoWhip)
Directions:
Preheat your oven to 300 degrees F. 
Combine crust ingredients to make a crumbly mixture.
Press roughly one and a half tablespoons of crust mixture into twelve lined cups of a muffin tin.
Bake in your preheated oven for 10 minutes, then set aside.
Next, add cheesecake ingredients (through food coloring) to a blender and blend on LOW until smooth, scraping down the sides as needed. Mixture will seem liquid, but don't worry, it will set as it cooks!
Divide cheesecake mixture evenly between muffin cups over top baked crusts.
Bake the mini cheesecakes for 20-25 minutes, or until the center is set but still jiggles.
Let cheesecakes cool at room temperature for 1 hour, then transfer to the fridge to chill for 2-3 hours. 
Dollop whipped topping over top (can use a piping bag or Ziploc with one corner cut off), then sprinkle more lime zest over top. Enjoy!
These cheesecakes will keep in the fridge up to one week, but are best served within 24 hours (the lime zest will become less vibrant over time). 
Calories (per mini cheesecake, including topping): 154 kcal, Fat: 10g, Sat fat: 1.0g, Carbs: 7g, Fiber: 3g, Sugar: 3g, Protein: 10g, Sodium: 164 mg"
Get your Flavorless LIV Body Collagen here. BOGO FREE with code MINICHEESECAKES
Thank you to Sarah Wilkins @thenutritionistmom for this amazing recipe!