Healthy Italian Ground Turkey Stuffed Peppers Recipe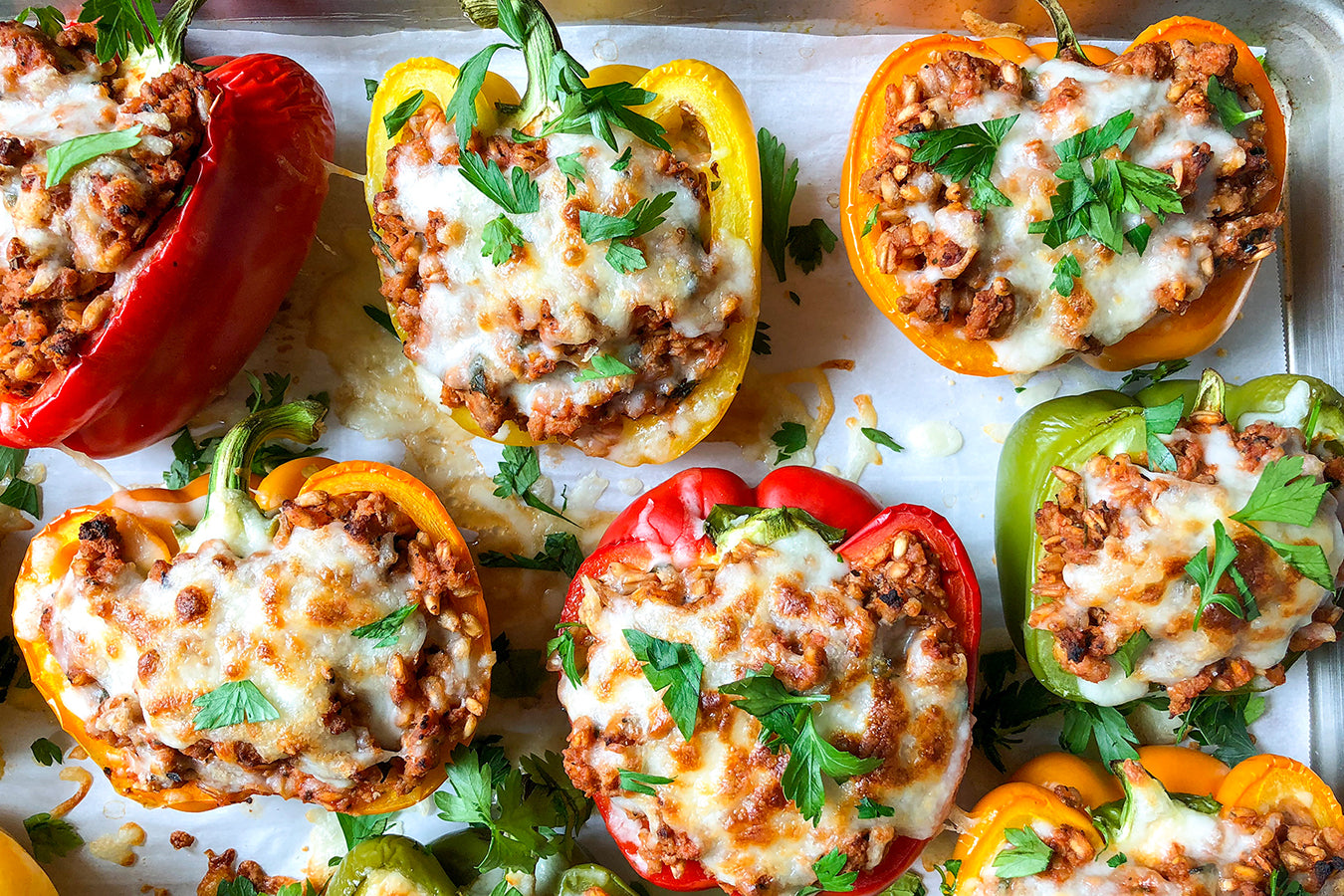 These stuffed peppers are perfect for meal prep or a healthy dinner party! If you're a fan of Italian food, you'll love the rich red sauce and melty mozzarella. Feel free to use any grain you like, or substitute a lower carb alternative like cauliflower rice.
INGREDIENTS:
Makes 6 stuffed peppers
Serving size: 1 stuffed pepper
6 large assorted bell peppers
1 1/2 cup cooked brown rice, buckwheat or farro
2 lbs. 93% lean ground turkey
1 cup onion, chopped
6 garlic cloves
1-15 oz. can organic tomato sauce
2 tbsp. fresh parsley, chopped
2 tsp. dried basil
2 tsp. dried oregano
1/4 tsp. black pepper
1/4 tsp. salt (optional)
3/4 cup part-skim mozzarella cheese (optional)
DIRECTIONS:
Preheat oven to 400 degrees F.
Bring 3/4 cup rice and 1 1/2 cups of water to a boil, then simmer for 30 minutes until grains are tender. Drain excess water and set aside.
Cut each bell pepper in half lengthwise, then cut out core (carefully) and scoop out seeds, rinsing if needed. Set aside.
Cook ground turkey with onion and garlic until browned and no pink remains.
Add tomato sauce and spices, then simmer for 5-10 minutes.
Combine cooked rice and ground turkey sauce, and divide between bell pepper halves.
Bake for 35-40 minutes until peppers are tender.
Sprinkle cheese on top and broil for 5 minutes until cheese is golden brown.
Leftovers will keep in the fridge up to one week.
| FAT: | CARBS: | PROTEIN: | CALORIES: |
| --- | --- | --- | --- |
| 13.5g | 30g | 32g | 367 |
----------------------------------------------------------------------------------
About LIV Body
We are committed to bringing the highest quality, most effective, natural products to the market. All of our supplements products are all natural, free of artificial sweeteners, artificial colors, harmful additives, and taste absolutely amazing!
LIV Body takes every measure possible to ensure that we are optimizing the health and wellness of our customers. We are fanatical about ensuring that we are sourcing the most pure and natural ingredients available and are even more obsessed with making sure that we keep all of the potential harmful ingredients out of our products. We are strong believers that fueling your body with natural ingredients from the earth is exactly what will optimize your appearance, health, and physical and mental performance.