Collagen Protein Brownie Nice Cream Sandwiches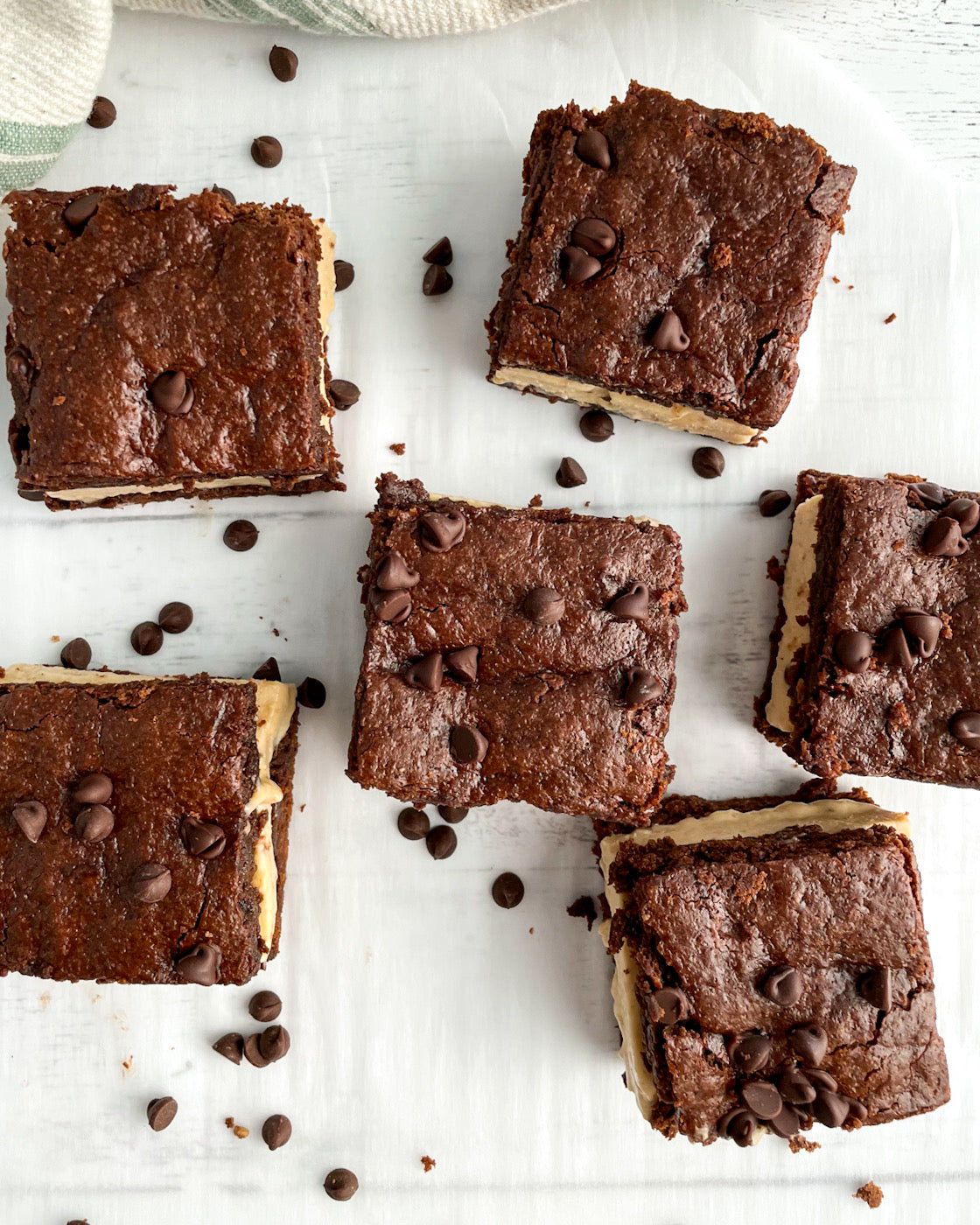 Having chocolate cravings? These Collagen Protein Brownies are sandwiched with Cookie Dough Protein Nice Cream for the ultimate treat! Just cut the nice cream into squares the same size as your brownies, then slice brownies in half, and sandwich nice cream between! These Collagen Protein Brownie Nice Cream Sandwiches are best kept in the freezer in an airtight container. When ready to eat, place on the counter on a plate for 10 minutes or so. 
COLLAGEN PROTEIN BROWNIES
(Makes 9 servings)
INGREDIENTS:
1 cup (100g) LIV Body unflavored marine collagen
SHOP HERE
1-1 1/2 cup calorie-free sweetener
1/2 cup unsweetened cocoa powder
6 tbsp. gluten-free baking flour
1/2 tsp. baking soda
1/2 tsp. salt (optional)
1/2 cup creamy almond butter
1/2 cup (4 large) egg whites*
1/4 cup unsweetened almond milk
2 tsp. vanilla extract optional
2 oz. dark chocolate chips (optional)
INSTRUCTIONS:
Preheat your oven to 350 degrees F.

Whisk together dry ingredients (through salt) in a small mixing bowl.

Add wet ingredients (through vanilla) and mix until smooth.

Stir in chocolate chips.

Lightly grease an 8″x8″ baking dish (or better yet, line it with parchment paper) and spread batter over the bottom evenly using a spatula (batter will be quite thick).

Bake for 18-20 minutes until a toothpick or knife inserted in the center comes out a little dirty.

Let cool for at least 15 minutes before cutting into 8 equal squares (for best results, use a plastic knife). Enjoy!

Leftovers can be stored in the fridge up to one week or in the freezer up to one month.
NOTES:
Calories (per 2"x2" brownie): 109kcal, Fat: 5.8g, Sat fat: 1.1g, Carbs: 6g, Fiber: 2g, Sugar: 2g, Protein: 10g, Sodium: 165mg
COOKIE DOUGH NICE CREAM
Makes 6 servings
INGREDIENTS:
2 large (260g) mostly ripe bananas, sliced
1 scoop (34g) LIV Body Lean Vegan Protein in Oatmeal Creme Cookie
SHOP HERE
2 tbsp. creamy peanut butter
2-3 tbsp. calorie-free sweetener 
1/2 tsp. pure vanilla extract
Dash salt
2 tbsp. mini chocolate chips
INSTRUCTIONS:
Place sliced bananas in a freezer bag and freeze overnight.

Add frozen banana slices to a blender or food processor with a blade along with protein powder, nut butter, sweetener, vanilla and salt.

Blend/process until smooth, pausing to scrape down the sides as needed.

Stir in chocolate chips, then transfer to a 7"x5" dish or loaf pan lined with parchment paper.

Freeze for 2 hours for a soft serve consistency. If you accidentally freeze too long, just leave on the counter for 10-15 minutes or so to soften. It should be firm enough to cut into squares.

Store nice cream in the freezer in an airtight container, then thaw on the counter for 10 minutes when ready to eat!
NUTRITION FACTS:
Calories (per 1/6th of nice cream): 115kcal, Fat: 4.5g, Sat fat: 1.7g, Carbs: 15g, Fiber: 2g, Sugar: 9g, Protein: 6g, Sodium: 129mg
Thank you to Sarah Wilkins @TheNutritionistMom for this amazing recipe! 
Get free shipping on your Lean Vegan Protein and Collagen with code SARAHWILKINS.