Quick & Easy Vegan Chocolate Mocha Protein Mug Cake Recipe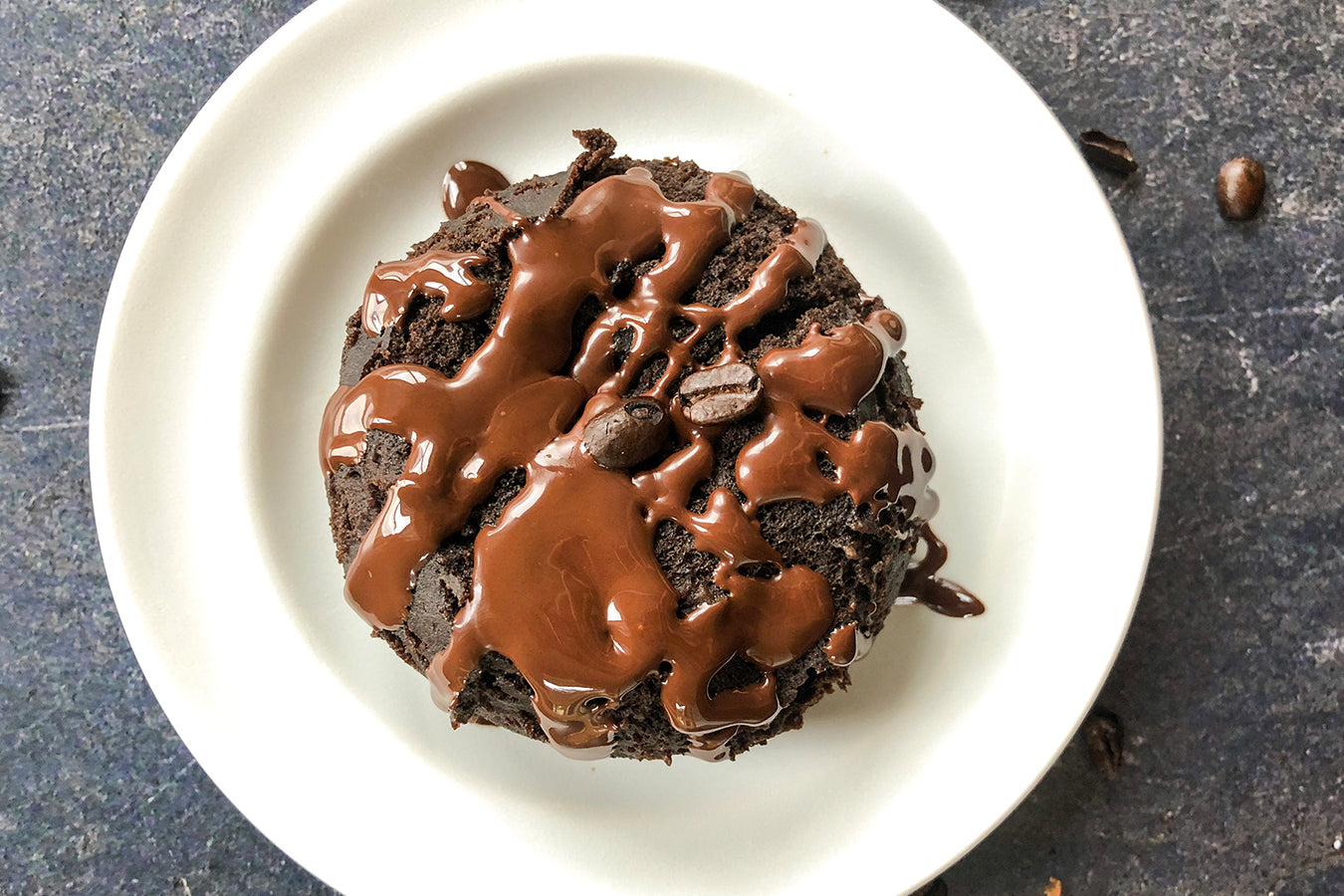 Sometimes you just need cake! Don't worry, this healthy mug cake is easy to whip up in less than 5 minutes, no oven required.
INGREDIENTS:
Makes 1 serving
2 tbsp. gluten-free flour
1 tbsp. unsweetened cocoa
1 tbsp. stevia-erythritol blend (or sweetener of choice)
1/2 tsp. baking powder
1/8 tsp. salt (optional)
1/4 cup unsweetened almond milk (or milk of choice)
1 tbsp. brewed coffee
1 tbsp. dairy-free vanilla yogurt (or almond butter)
1 tbsp. unsweetened applesauce
1/4 tsp. vanilla extract
1 tbsp. dark chocolate chips, melted (optional)
DIRECTIONS:
Combine all ingredients (except chocolate chips) in a small bowl until no clumps remain.
Spoon batter into a large coffee mug lightly coated with cooking spray.
Microwave for 1 minute 30 seconds at 1000 watts, or until set.
Invert mug to dump your "cake" onto a plate.
Heat chocolate chips in the microwave for 30 seconds or until melted.
Drizzle chocolate over cake and dig in!
Macronutrients:
| FAT: | CARBS: | PROTEIN: | CALORIES: |
| --- | --- | --- | --- |
| 3.5g | 22g | 12g | 154 |
----------------------------------------------------------------------------------
About LIV Body
We are committed to bringing the highest quality, most effective, natural products to the market. All of our supplements products are all natural, free of artificial sweeteners, artificial colors, harmful additives, and taste absolutely amazing!
LIV Body takes every measure possible to ensure that we are optimizing the health and wellness of our customers. We are fanatical about ensuring that we are sourcing the most pure and natural ingredients available and are even more obsessed with making sure that we keep all of the potential harmful ingredients out of our products. We are strong believers that fueling your body with natural ingredients from the earth is exactly what will optimize your appearance, health, and physical and mental performance.