Low-Sugar Vegan Blueberry and Pecan Protein Pancakes Recipe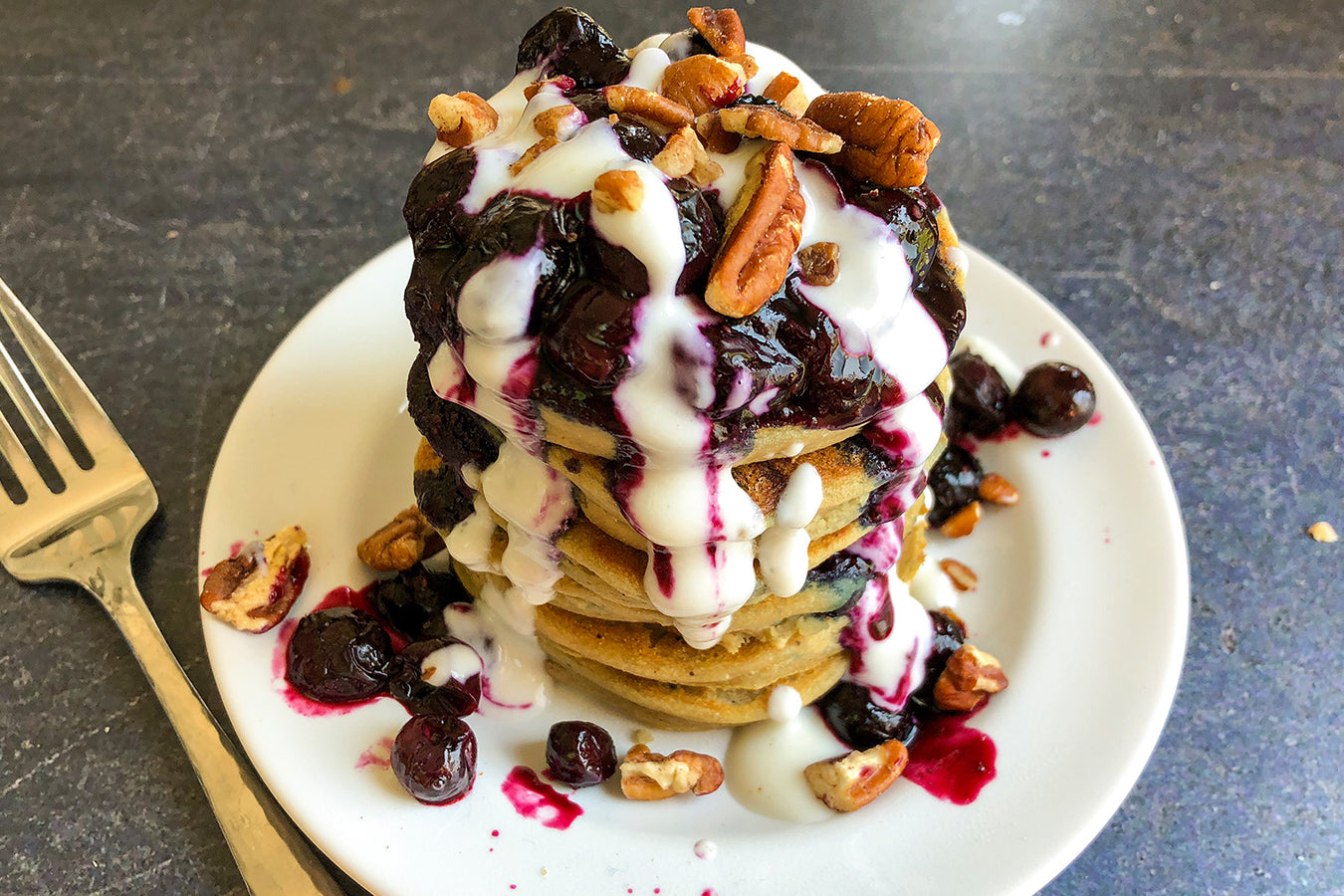 It's hard to say no to a muffin in pancake form! This stack may look decadent, but it's loaded with protein and low in sugar to give you lasting energy. Feel free to substitute the oat flour for a gluten-free baking flour, or even regular all-purpose flour.
INGREDIENTS:
Makes 1 pancake
Serving size: 1 pancake
1/2 cup (40g) gluten-free flour
1 scoop of LIV Body Lean Protein
1 tsp. stevia-erythritol blend (or sweetener of choice)
3/4 tsp. baking powder
1/4 tsp. baking soda
2/3 cup unsweetened almond milk (or milk of choice)
3/4 tsp. pure vanilla extract
1/4 cup blueberries, fresh or frozen
Toppings:
1/4 cup blueberries, fresh or frozen + 1 tsp. stevia-erythritol blend (or sweetener of choice)
2 tbsp. dairy-free vanilla yogurt + 1 tsp. lemon juice
1 tsp. chopped pecans
DIRECTIONS:
Whisk together dry ingredients then stir in milk and vanilla extract.
Let batter sit for 3-5 minutes while you preheat a nonstick pan over medium heat.
Lightly coat pan with coconut oil spray.
Drop batter 2 tbsp. at a time to make 4 small pancakes, then spoon 1 tbsp. blueberries over top each pancake.
Cook 2-3 minutes on the first side, then flip and cook 2-3 minutes on the second side.
Top with melted cashew butter, mashed and sweetened blueberries, and crumbled graham cracker if desired (or choose your own toppings)!
Macronutrients:
| FAT: | CARBS: | PROTEIN: | CALORIES: |
| --- | --- | --- | --- |
| 4.2g | 47g | 25g | 315 |
----------------------------------------------------------------------------------
About LIV Body
We are committed to bringing the highest quality, most effective, natural products to the market. All of our supplements products are all natural, free of artificial sweeteners, artificial colors, harmful additives, and taste absolutely amazing!
LIV Body takes every measure possible to ensure that we are optimizing the health and wellness of our customers. We are fanatical about ensuring that we are sourcing the most pure and natural ingredients available and are even more obsessed with making sure that we keep all of the potential harmful ingredients out of our products. We are strong believers that fueling your body with natural ingredients from the earth is exactly what will optimize your appearance, health, and physical and mental performance.