Full-Body Dumbbell Workout with LIV Body Athlete Paige Hathaway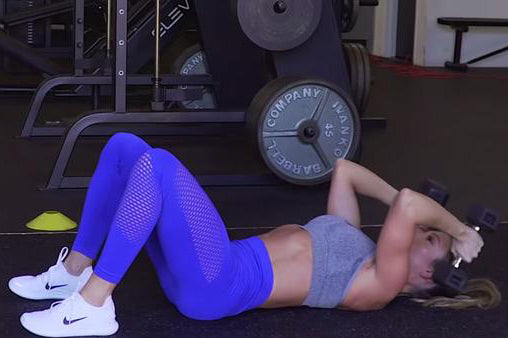 LIV Body Athlete Paige Hathaway loves dumbbell workouts and it's not hard to see why. Dumbbell exercises offer a variety of health benefits and they do not require heavy machinery or even a gym. Whether you are looking improve your physique or your mental well-being, dumbbells are great accessories to incorporate into your daily routines. Check out her full body dumbbell workout below!
BENEFITS OF DUMBBELL EXERCISES:
Tone It Up: Lighter dumbbells can help you tone and target specific areas like underarms.
Cardio Dream Team: Adding dumbbells to your cardio routine can help improve your cardiovascular health. They can push your hear rate into the aerobic zone which is known to enhance blood cholesterol health.
Keep It Off: Another benefit of dumbbell exercises is weight loss. This type of aerobic exercise not only increases weight loss but it also prevents diabetes, heart disease, stroke, and high blood pressure.
Push On Through: Increasing the frequency of repetitions with dumbbell exercises can help build muscular endurance.
Break A Bone (Not): The use of dumbbells in your workout routines can help decrease the chances of breaking or fracturing your bones. Dumbbells have proven to increase bone density and decrease the chance of arthritis in the joints and prevent osteoporosis.
Get into beast mode with LIV Body's LIV Energy Pre-Workout.
Paige Hathaway's Favorite Dumbbell Exercises:
Tricep Skull Crusher Roll into Front Raise
Swing into Shoulder Press
Rows Burpee Bicep Curls into Deadlift
4 Pulse Squats into 4 Lunges
Learned a new favorite move? Let us know in the comments below!
You can see more of Paige's routines on her Instagram (@paigehathaway).
----------------------------------------------------------------------------------
About LIV Body
We are committed to bringing the highest quality, most effective, natural products to the market. All of our supplements products are all-natural, free of artificial sweeteners, artificial colors, harmful additives, and taste absolutely amazing!
LIV Body takes every measure possible to ensure that we are optimizing the health and wellness of our customers. We are fanatical about ensuring that we are sourcing the purest and natural ingredients available and are even more obsessed with making sure that we keep all of the potentially harmful ingredients out of our products. We are strong believers that fueling your body with natural ingredients from the earth is exactly what will optimize your appearance, health, and physical and mental performance.