Controlled Leg Day with LIV Body Athlete Paige Hathaway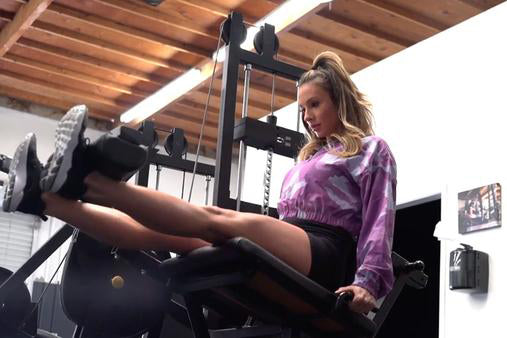 LIV Body athlete Paige Hathaway takes us through one of the best Controlled Leg Day routine. Get ready to feel the burn! 
Pre-workout supplementation:  3/4-1 scoop of LIV Energy Pre-Workout
FEATURED WORKOUT
Leg Extensions:  Three sets of light warm up 15-20 reps.
Single Leg Extensions: 12-15 reps per leg, 3 rounds. Add weight each set.
Leg Press - Three sets of 12-15 reps.  Add weight each set.
During your workout:  Consume 1-2 scoops of Hydrating Aminos to prevent muscular breakdown and improve performance and recovery.
Sissy Squats: 15-20 reps, 4 rounds.
Heels Touching Toes Pointed Out Smith Machine Squats: 10-12 reps, 4 rounds.
Heavy Dumbbell Step Ups: 10 reps on each leg.  Add weight each set.
Body Weight Lunges: 100 lunges to end workout.
Post workout immediately take your favorite protein powder LIV Body Lean Protein & Greens
Recap on the workout:
This workout is all about controlling your form on each movement. Focus on squeezing the affected muscle, every rep of every movement and pushing at least one set of each movement to complete muscle fatigue. We hope you all enjoyed this and can't wait to hear back from you after you try this workout!
----------------------------------------------------------------------------------
About LIV Body
We are committed to bringing the highest quality, most effective, natural products to the market. All of our supplements products are all-natural, free of artificial sweeteners, artificial colors, harmful additives, and taste absolutely amazing!
LIV Body takes every measure possible to ensure that we are optimizing the health and wellness of our customers. We are fanatical about ensuring that we are sourcing the purest and natural ingredients available and are even more obsessed with making sure that we keep all of the potentially harmful ingredients out of our products. We are strong believers that fueling your body with natural ingredients from the earth is exactly what will optimize your appearance, health, and physical and mental performance.