Killer Outdoor Partner Workout with Janna Breslin and Natalie Matthews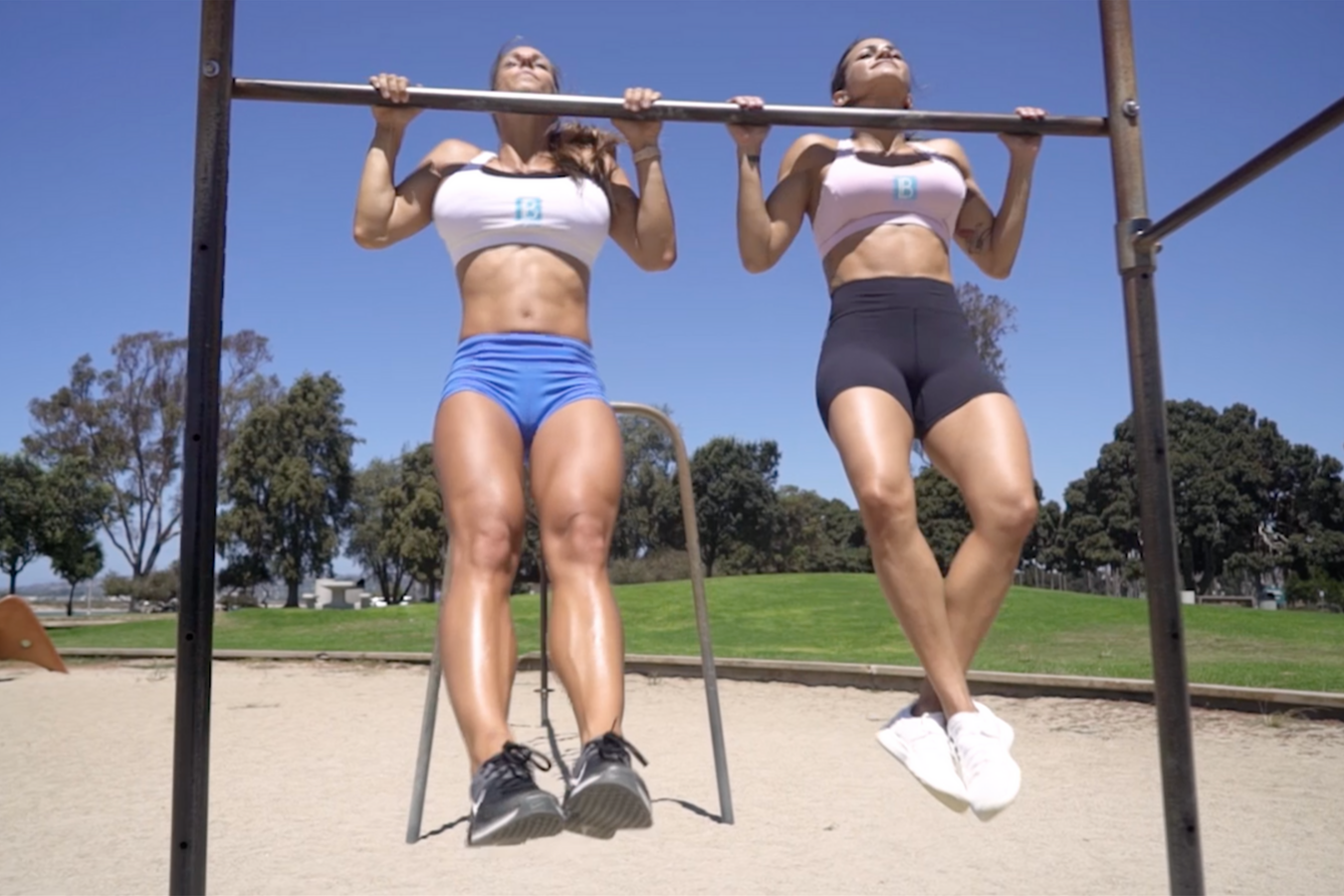 It's the perfect weather for outdoor workouts and we have a great partner routine just for you. LIV Body Athletes Janna Breslin and Natalie Matthews show us how to enjoy the sunshine while bringing the heat. This full body workout will get your heart racing and your blood pumping. Grab your workout partner and let's get to work!
Need a pick-me-up? Enjoy a glass of LIV Energy 15-30 minutes beforehand!
FEATURED WORKOUT ROUTINE
PARTNER PUSH-UPS (3 SETS X 30 SECONDS)
Although this is timed, form is extremely important! Try to keep your form consistent even when you are feeling it. Go all the way up and come all the way down. Of course you can always modify your push up by keeping your knees on the floor. No matter your fitness level, you can always make it work. 
PULL-UPS (3 SETS X 8 REPS)
The goal here is to pull yourself all the way up each rep without straining your neck in the process. Remember it's not about how fast you complete each set, but about how well you commit to the correct form. If you're at the gym, feel free to use the assisted pull-up machine to help you get through this one!
KETTLEBELL SWINGS (3 SETS X 30 SECONDS)
BURPEES (3 SETS X 30 SECONDS)
While one person does the kettlebell swings, the other is slaying the burpees. Then switch when time is up. Make sure to squeeze your glutes with each swing and don't forget to breathe while doing the burpees!
JUMPING LUNGES (3 SETS X 30 SECONDS)
This cardio killer is perfect for getting that heart rate up and toning your legs and glutes. This will also help increase your agility level. Be careful when landing. Make sure you do not hurt your knees.
MOUNTAIN CLIMBERS (3 SETS X 30 SECONDS)
KETTLEBELL SWINGS (3 SETS X 30 SECONDS)
While one person does the kettlebell swings, the other is climbing mountains! Switch when time is up. Keep your head parallel to the floor when doing the mountain climbers to prevent straining your neck. Be sure not to over arch your back either. Your back should be slightly rounded like a runner about to take off for a race. For the kettlebell swings, keep your feet flat on the floor, slightly wider than shoulder width apart. Thrust your hips and keep your back as flat as possible. Do not overswing or it may strain your neck. Also, squeeze those glutes!
Woot! You made it! Let us know how it went in the comments below. 
Pro Tip: Recover with a delicious glass of LIV Body's Hydrating Aminos. Your body with thank you tomorrow!
----------------------------------------------------------------------------------
About LIV Body
We are committed to bringing the highest quality, most effective, natural products to the market. All of our supplements products are all-natural, free of artificial sweeteners, artificial colors, harmful additives, and taste absolutely amazing!
LIV Body takes every measure possible to ensure that we are optimizing the health and wellness of our customers. We are fanatical about ensuring that we are sourcing the purest and natural ingredients available and are even more obsessed with making sure that we keep all of the potentially harmful ingredients out of our products. We are strong believers that fueling your body with natural ingredients from the earth is exactly what will optimize your appearance, health, and physical and mental performance.