Full Body Workout with LIV Body Athletes Natalie Matthews and Janna Breslin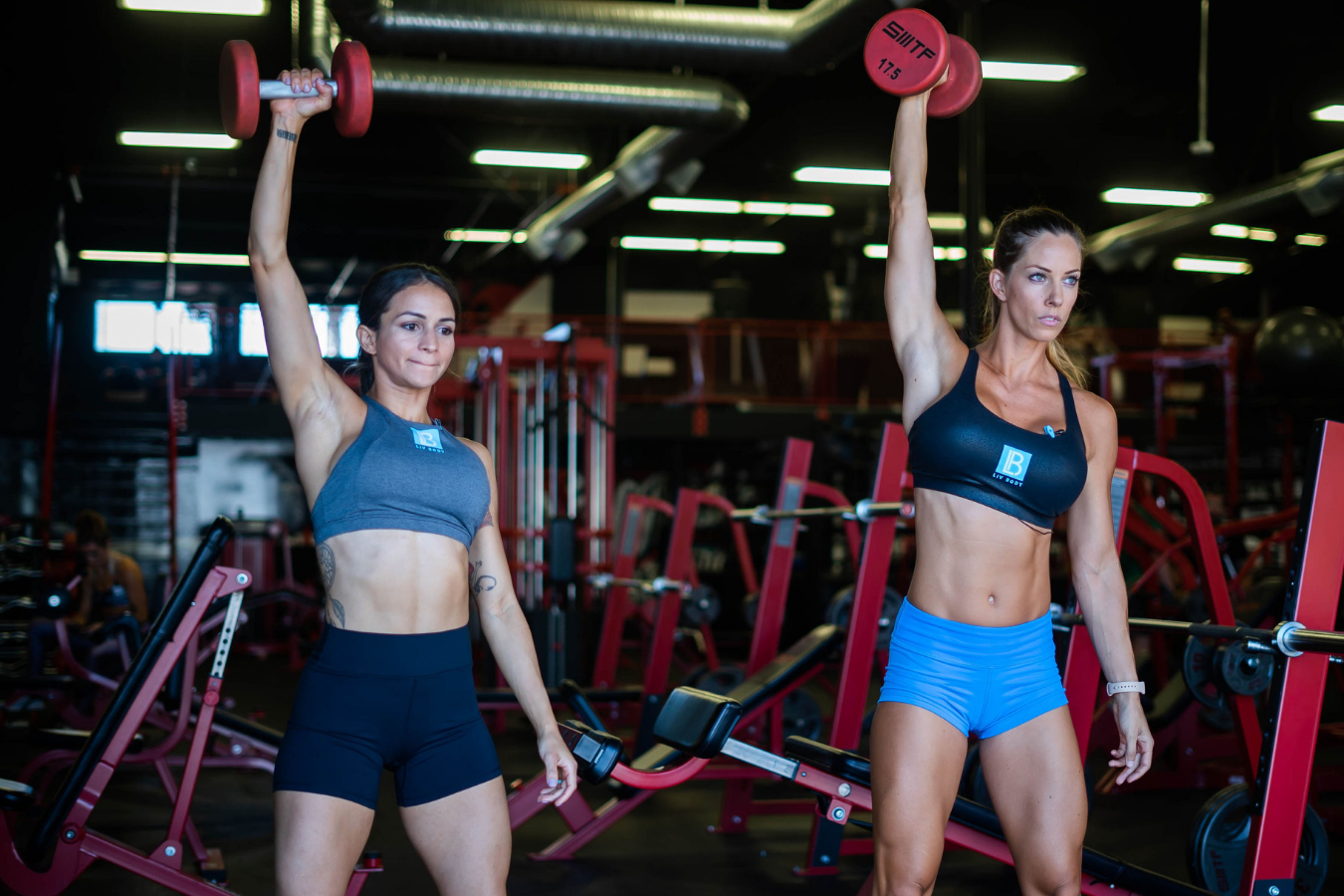 We're back with another killer full body workout from LIV Body Athletes Natalie Matthews and Janna Breslin. If you're looking for a fun and effective routine to burn calories, get your body moving, and get it dripping in sweat, this is the workout for you! Best of all, this is an extremely fun and functional routine that is guaranteed to work your entire body. What are we waiting for? Let's dive in! 
FEATURED WORKOUT ROUTINE
Dumbbell Snatches (4 sets, 8-12 reps)
It is best to start out with a lighter weight rather than a heavier weight if you are unfamiliar with this exercise. This movement will use most of your legs to get the weight above your head. You're mostly using your hip extensions to lift the dumbbell quickly on top of you. First, squat down and second, hop underneath the dumbbell. This movement targets the upper and lower body. More specifically, it works the quads, hamstrings, glutes, and shoulders. It burns tons of calories, gets your heart rate up and builds muscle.
Arnold Presses (4 sets, 8-12 reps)
This is an extremely effective shoulder exercise. So if you're looking to build your shoulder muscles, give this a shot. Tip: Do this one sitting down to prevent yourself from using your entire body that way you can isolate your shoulders.
Sled Push (4 sets, 8-12 reps)
Nothing targets your whole body and gets your heart rate spiked like Sled Pushes! The beauty of this exercise is, you can add as much or little weight as you like. You can even do it with a partner like what Natalie and Janna are demonstrating. This is great for legs, arms, butt, back, and basically the entire body.
Superset Battle Ropes and Tricep Extensions with a Plate (4 sets, 8-12 reps)
It's time to wrap things up with a superset that will work your whole body and keep your muscles engaged on every front. If you're doing this with a partner, switch off between each set.
That's it! How did it go? Let us know below.
----------------------------------------------------------------------------------
About LIV Body
We are committed to bringing the highest quality, most effective, natural products to the market. All of our supplements products are all-natural, free of artificial sweeteners, artificial colors, harmful additives, and taste absolutely amazing!
LIV Body takes every measure possible to ensure that we are optimizing the health and wellness of our customers. We are fanatical about ensuring that we are sourcing the purest and natural ingredients available and are even more obsessed with making sure that we keep all of the potentially harmful ingredients out of our products. We are strong believers that fueling your body with natural ingredients from the earth is exactly what will optimize your appearance, health, and physical and mental performance.